What do you do with a giant blank wall? Add a tonhttp://www.wall-shelf.cn/block-shelf.htm of drama and romance with a candle wall!
Below is the wall before (this picture cuts off the wall a little bit on the right). We wanted something interesting and bold.
Here are the photos that inspired us: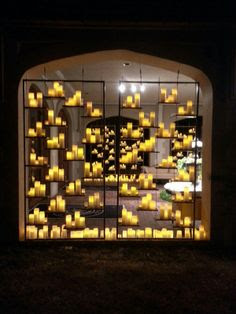 So this is a very large wall and we knew we didn't want to fill up the entire area. In brainstorming about it, I came up with the idea of wooden blocks. Here's what we used:
My client bought 18 of them in white. We cut out paper in 5" squares, the same size as the blocks, and taped them all over the wall in a random pattern. The blocks were hung and my client placed small mercury glass votive holders on each one. The candles inside are battery-operated and work on a remote control, to make it easy to light the ones that are really up high on the wall.
As my client says, "It's my favorite part of the room for $200!" The dramatic impact is truly amazing: beautiful, soft candlelight washing across the wall. Gorgeous!!